Saturday Night Links (Fever?) is here
(It's going to be a little different than last time)
Do you remember
Saturday Night Fever
? It was a wonderful movie. When it came out the disco phase had hit and this movie added to it. I remember doing the dances from this movie and having so much fun.
If this should have been in chronological order, I should have mentioned this first:
Gone With The Wind
(1939), which is often considered the most beloved, enduring and popular film of all time. I shared this film several times with my best friend and it's a classic.
Dawid Bowie
, he was really my star.
Which David Bowie are you
? He has been a varied artist, with
Ziggy Stardust
, heroes, China Girl,
Merry Christmas, Mr. Lawrence
and so on. See him
here
and
here
. I remember the great concert in Baden Segeberg with David Bowie.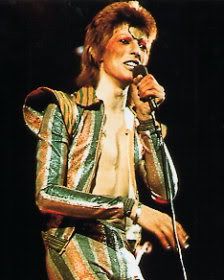 The 70's was also mini skirts,
hot pants
, loon pants, New Wave, Prince Charles grows a beard, the
Beatles split
, John, Paul, George and Ringo go solo, the
Osmonds
,
Slade
and T-Rex/Marc Bolan (some of my favourite's), David Bowie became the biggest UK act since The Beatles, the Bay City Rollers,
Abba
, the Village People and much more.
This is past, now we have another great time:
Read "
The Travelling Story
" in
The Examing Room of Dr. Charles
. It's a fabulous story, written by seven medical bloggers, and probably the first of its kind on the internet.
go fug yourself
has become
go hug yourself
, what will be next?
Then a new carnival "
Smarter Than I
" came up, submit something that's not your own and smarter (a lot of submissions are coming from me).